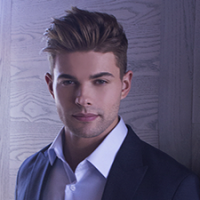 Kaden James, Author & Wellness Coach
Supernatural Suspense, Science Fiction, Fantasy, Teen & Young Adult, Poetry, Advice & How To
Profession

Life & Wellness Coach, Author, Writer
Kaden James is a #1 best-selling author of several literary works including; "The Daily Playbook" "Coach Yourself" and "REFLEKT," all available on Amazon online. Kaden always had a zest for life. After having a difficult childhood he studied the most highly successful people he came across and applied their methods and helped others reach their dreams.

Through his learning, he came to understand that real success is feeling good about who you are and what you do. Born in California, Kaden was moved to a small town in Idaho at the age of ten, he came from humble beginnings, was focused, and grounded at a young age. He made his way to Los Angeles after graduating early to pursue his dreams.

When arriving in Los Angeles, Kaden quickly became a rising star as a recording artist, entertainer, and humanitarian. As a successful singer-songwriter and frequently on MTV, he recorded music for MTV's 'The Real World' and writing and performing the theme song to both 'The A-List: New York and Dallas.' While the music scene and the fame was a fun ride, Kaden was ready and maturing into a new life direction and seamlessly transitioned into writing and the literary world.

Since fitness and living a clean, healthy lifestyle are some of his passions, in 2017, he began studying with "Robbins-Madanes Training" (the official Coach Training School of Anthony Robbins). He became certified as a life & wellness coach with 'Expert Rating.' He began writing unique self-help motivational books and started his life coaching business. With the gained wisdom and the thirst to help others, his coaching business took off.

He continues to be an Instagram Star and influencer as he shares his coaching tips for all, and advice through poetic thoughts and inspiring words to reflect on. When the author is not writing or coaching clients, he enjoys spending time outdoors, hiking, working out, cooking, and reading. His favorite authors are Gary Zukav, Brené Brown, and Marianne Williamson, to name a few.


As the author says, "It's not about where you come from, what you have, or what you have done, life is about who you become." Keep an eye on this author as his literary star is still rising and Shining Bright. The author resides in Los Angeles, CA.
Video
Appearance & Interview with Kaden James on ABC Nightly News
Kaden James, Author & Wellness Coach Books